Gallery
(Select an album)


10/03/10
iPhone 4 HDR Photoshoot


4/29/08
Photoshoot at Shannonville


7/03/07
Zaino'ed & Pics with CTS


5/11/07
Random pictures with my daily driver


4/21/07
Photoshoot with the CTS


12/19/06
Photoshoot with my buddy's 540i


11/16/06
Random night shots with HID fogs


11/06/06
10,000K HID Fog Lights


3/12/06
CTS-V & CTS
(Winter Rims)


1/28/06
Random Shots
(Winter Rims)
2004 Cadillac CTS-V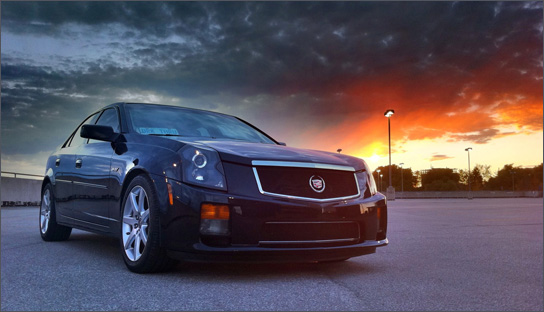 Info
My 2004 Cadillac CTS-V in Black Raven. I got this November 2005, and it came fully loaded with the only option available on 2004 V's: sunroof. Modifications include 222/226 cam, B&B full exhaust (long tube headers, high flow cats, x-pipe, mufflers), K&N cold air intake, Hotchkis swaybars, Hendrix race axle, Corvette Z06 fuel rail covers, 8000k HID low beams and 8000k HID fog lamps. I've also added the spoiler from the CTS Sport Appearance Package, B&M short shifter, '07 full colour center caps, 35% metallic tint, and black powdercoated mesh grilles. Interior lights have all been replaced with LEDs, as well as all exterior halogens.
The custom plate, 'BRK THRU' comes from Cadillac's slogan, 'Breakthrough.' For those that don't know, the CTS-V uses the LS6 5.7L V8 found in the Corvette Z06. It also features the same transmission, a 6 speed manual by Tremec. With a suspension tuned by the engineers on Nurburgring, and more aggressive exterior styling than the regular CTS, the CTS-V is a four door Corvette. This 400hp beast rockets from 0-60mph in 4.6 seconds and covers the quarter mile in 13.1 seconds from a standing start.
With my modifications the car currently puts out 379rwhp/360rwtq.